By Goran Damchevski
This article was originally published on Simply Wall St News
Two new pieces of information stimulate investors to consider XPeng Inc. (NYSE:XPEV) more carefully for the future. The Political Bureau meeting in China and the release of July vehicle delivery results by XPeng.
We will look at how these, along with future estimates for the company, impact the outlook for Xpeng.
The Political Bureau meeting of Chinas (CPC) Central Committee was held on July 30th and chaired by Xi Jinping (Sources 1, 2). The primary discussion was around Chinas economy. For Electrical Vehicle investors, it might be a positive signal to know that Beijing called for more support for the domestic EV market. This has implications for positive policies surrounding EV producers and distributors such as XPeng, NIO (NYSE:NIO), Li Auto (NASDAQ:LI), and subsidies that will support domestic production.
The July XPeng deliveries report is an even stronger specific signal. The company managed to deliver 8,040 vehicles in July, a record month with a 228% increase year-over-year. On a year to date level, XPeng has delivered 38,778 vehicles - representing a 388% increase year-over-year.
In comparison, NIO delivered 7,931 vehicles in July 2021 and 125,528 total vehicles this year. This might be indicative that Xpeng has a lot of production capacity and is catching up with NIO in deliveries.
Before going further, please be aware that Chinese stocks carry with them additional political risk, which can be hard to predict for investors.
Now, lets see how we can tie in the growth with investors estimates.
In the previous quarter, XPeng reported revenues of CN¥3.0b, in line with expectations. Following the result, the analysts have updated their earnings model.
So we collected the latest post-earnings statutory consensus estimates to see what could be in store for next year. Keep in mind that analysts have not introduced the above-mentioned information in their estimates, and we may get an additional update in the coming days.
See our latest analysis for XPeng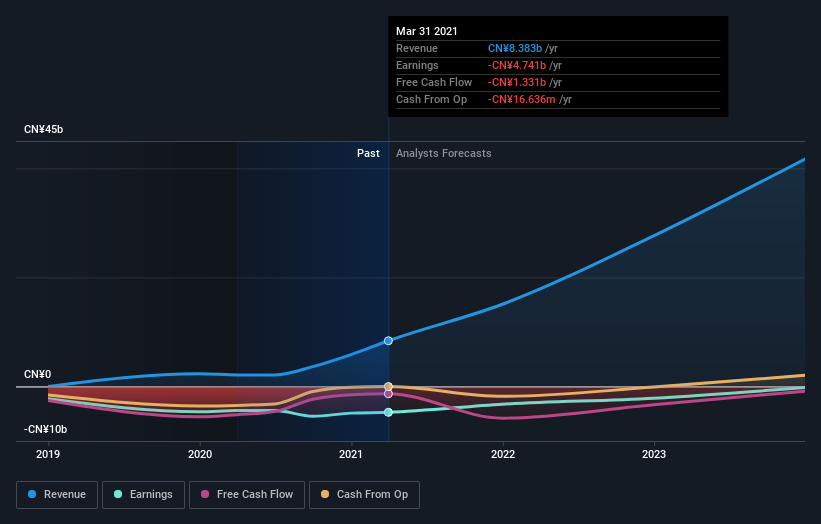 NYSE:XPEV Earnings and Revenue Growth August 2nd 2021
Taking into account the latest results, the consensus forecast from XPengs 15 analysts is for revenues of CN¥15.1b in 2021, which would reflect a major 80% improvement in sales compared to the last 12 months.
The loss per share is expected to greatly reduce in the near future, narrowing 62% to CN¥3.39.
Before this earnings announcement, the analysts had been modelling revenues of CN¥14.9b and losses of CN¥3.05 per share in 2021. While this years revenue estimates held steady, there was also a considerable increase in loss per share expectations, suggesting the consensus has a bit of a mixed view on the stock.
The consensus price target held steady at US$47.45, seemingly implying that the higher forecast losses are not expected to have a long term impact on the companys valuation. Fixating on a single price target can be unwise though, since the consensus target is effectively the average of analyst price targets.
As a result, some investors like to look at the range of estimates to see if there are any diverging opinions on the companys valuation. There are some variant perceptions on XPeng, with the most bullish analyst valuing it at US$70.01 and the most bearish at US$26.10 per share.
Finally, we will look at the balance sheet and see how much can XPeng invest in growth now. With a 9.7% debt to equity ratio and CNY33.5b in cash and equivalents, we can see that the company can fund large capacity expansions that will deliver growth. Additionally, around 40% of XPeng employees are reported to have some R&D role, that is aimed at producing better and Smart EV products. Total assets hover around CN¥47b vs CN¥13.3b in total liabilities.
Conclusion
XPeng indicates picking up growth and seriously rivaling NIO.
The latest Political Bureau meeting of Chinas (CPC) Central Committee implies strong support for domestic electrical vehicle companies and may result in concrete moves and subsidies to support the industry, where XPeng is primed to benefit.
Future estimates show strong growth in a short timeframe. Analysts may further revise their estimates based on the latest events - and our data suggests that revenues are expected to grow faster than the wider industry. The consensus price target held steady at US$47.45, with the latest estimates not enough to have an impact on their price targets.
XPeng has also large cash reserves which will fund future capacity and growth.
That said, its still necessary to consider the ever-present specter of investment risk. Weve identified 1 warning sign with XPeng , and understanding this should be part of your investment process.
Simply Wall St analyst Goran Damchevski and Simply Wall St have no position in any of the companies mentioned. This article is general in nature. It does not constitute a recommendation to buy or sell any stock and does not take account of your objectives, or your financial situation. We aim to bring you long-term focused analysis driven by fundamental data. Note that our analysis may not factor in the latest price-sensitive company announcements or qualitative material.
Have feedback on this article? Concerned about the content? Get in touch with us directly. Alternatively, email editorial-team@simplywallst.com
The views and opinions expressed herein are the views and opinions of the author and do not necessarily reflect those of Nasdaq, Inc.
We help you make informed decisions by giving you access to institutional quality data and analysis presented visually.
Most Popular
Write us
Find us at the office
Blotner- Kwas street no. 55, 39246 Canberra, Australia
Give us a ring
Dymon Rothfuss
+78 715 483 676
Mon - Fri, 10:00-22:00